December 2021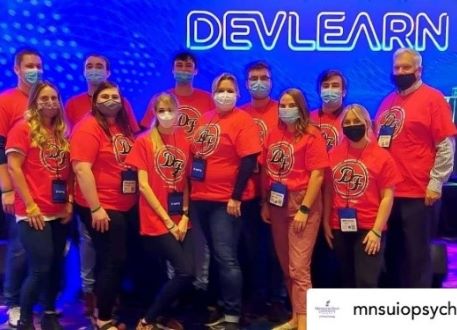 Student news and highlights from across the College of Social & Behavioral Sciences
Click to View
Close
HISTORY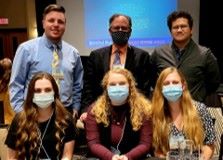 History students at NGPHC
Seven History students recently presented their research at the 2021 Northern Great Plains History Conference in Eau Claire.
Undergraduate student Mitchell Cozard (History, Social Studies Teaching) shared his work on how textbooks portray Rev. Dr. Martin Luther King, Jr. and Malcolm X supervised by Dr. Angela Jill Cooley.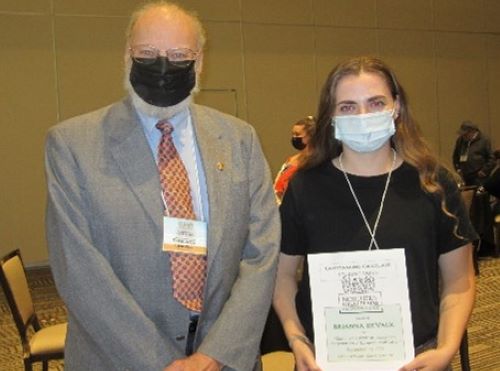 Brianna DeValk with Dr. Terrence Lindell
Graduate students Brianna DeValk, Abigail Fer, Kassandra Mackenthun, Ikwe Mennen, Paul Spyhalski, and Sara Tostenson shared projects that emerged from their ethnohistory reading seminar with Professor Chad McCutchen. Abigail Fer also presented a paper on the Meriam Report and Indigenous education. She did this paper as part of a civil rights research seminar she took with Professor Angela Jill Cooley. All students received Lass grant funding to attend the conference. Johannes Allert, Rachael Hanel, and David Mills (Alumni) also presented papers at the NGPHC.
Brianna DeValk won the prize for the best graduate student paper presented at the Northern Great Plains History Conference. She wrote her paper, "Claiming the Americas: Indigenous Interpretations of European Justification," for Dr. Chad McCutchen's ethnohistory reading seminar.
A graduate student, Paul Spyhalski's article, "Tillie Ford, an Early Black Baseball Pioneer," is forthcoming in NINE: A Journal of Baseball History and Culture. This past summer, his book chapter, "Merchant Maroons," appeared in an edited volume on the history of African American baseball.
Johannes Allert, (History Alumni) has been accepted into Swansea University's (Wales) PhD program in American Studies.
GEOGRAPHY
A graduate student, Benjamin Von Korff, and an undergraduate student, Ethan Smith won first place at paper competition at the 2021 Annual Conference of Minnesota GIS/LIS Consortium. Benjamin was mentored by Dr. Fei Yuan while Ethan worked with Dr. Rama Mohapatra.
GOVERNMENT
On Wednesday, September 29, students in Dr. Tom Inglot's POL 434/534: US Foreign Policy Class participated in the webinar discussion on "Constraining Putin's Russia" organized by the Council on Foreign Relations, Washington DC, and moderated by Thomas E. Graham, a distinguished fellow at the Council on Foreign Relations. They also attended a webinar on "Balancing the Indo-Pacific" with Dhruva Jaishankar, executive director of Observer Research Foundation America and nonresident fellow at the Lowy Institute on October 6.
PSYCHOLOGY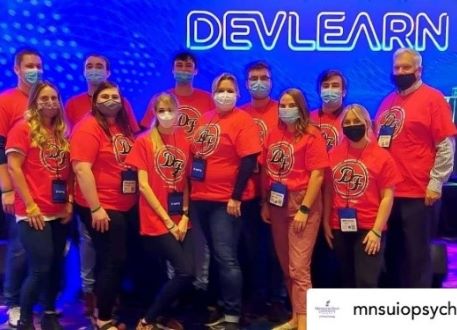 Psychology student at DevLearn
All the second-year graduate students in Industrial/Organizational Psychology program along with two faculty presented at the 2021 DevLearn conference in Las Vegas on October 20-22nd. Many of the projects are based on projects that we have done with Tammy Bohlke in Strategic Partnerships, through the Organizational Effectiveness Research Group (OERG). All the submitted projects have been accepted to be presented in the Demofest which is a showcase of e-learning examples. Conference presentations as follows:
Cody Breen and McKenzie Specht: "Let's Wine About It: Using Power BI to Create Interactive Training Dashboards"
Brooke Hom and Meg Finbraaten: "JonesTube: Using Videos to Improve Knowledge Transfer"
Denis Leahy: "Interactive Dashboard for Assessing Evidence-Based Organizational Training Needs"
Andi Lassiter and Caroline Clancy "Storyboarding to help with Communication, Planning, and Development of a Unity-Based Training Solution for Manufacturing"
Max Umhoefer and Sara Coyne "Using Face-Tracking Technology in an Articulate Rise E-Learning Course to Navigate Tough Conversations."
Luke Camden and Dan Sachau "Saving Expert Knowledge from Retirement"
Evan Good and Andi Lassiter "Using Unity to Develop App-Based Training for Machinists"
A graduate student, Caroline Clancy, and Dr. Andi Lassiter received an award for "Best Performance Support Solution" for their project presented.
Also, graduate students, Cody Breen and McKenzie Specht received an award for "Best Personal Project" for their project.
SOCIOLOGY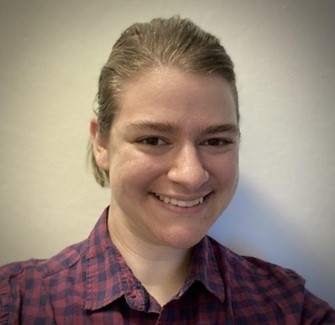 Fio Selwyn Haire
A graduate student, Fio Selwyn Haire (Sociology) is a co-winner of the first-place award in the graduate division for this year's Caroline Rose Student Paper Competition, sponsored by the Sociologists of Minnesota. Fio's paper is titled, "'What I Used to Feel': Apostasy and Mental Health."
Students in Nonprofit Leadership program and Leadership Learning Community had cookout at Highland Park with Dr. Kristi Rendahl.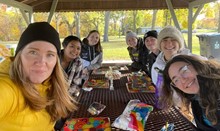 Highland Park with Dr. Kristi Rendahl
Students in Nonprofit Leadership program and Leadership Learning Community had cookout at Highland Park with Dr. Kristi Rendahl.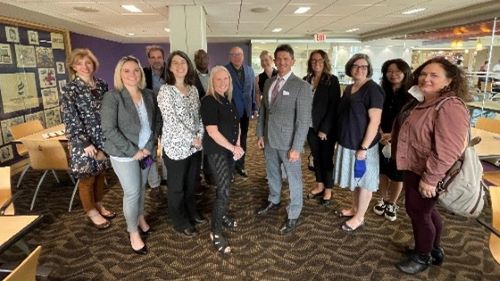 Faculty news and highlights from across the College of Social & Behavioral Sciences
Click to View
Close
Dr. Jose Javier Lopez, Dr. Woo Jang (Geography), and Dr. Paul Prew (Sociology), and graduate students Luis Lepe and Richard Mataitis published their research about the geography of hate and spatial patterns of bias-motivated crimes in Minnesota, 2015–18 in the American Journal of Criminal Justice. The article was published in October 2021.
In October Daniel Karpowitz, Asst. Commissioner of the Department of Corrections, and Janet Morales, DOC Director of Higher Education Partnerships, visited campus to discuss the Scholars Serving Time (SST) Program recently launched by Minnesota State Mankato and the College of Social & Behavioral Sciences. The SST Program delivers Minnesota State Mankato degree programs to incarcerated individuals at three correctional facilities in Minnesota.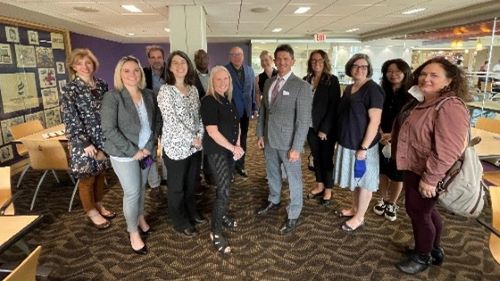 SST program reception (masks were briefly removed for a photo)
After touring campus, the two visited a selection of leaders from the campus community, including current instructors in the program, and discussed plans to ensure the sustainability of the SST program and the commitment to maintaining the high quality of its delivery. Learn more about the Scholars Serving Time program.
ANTHROPOLOGY
Dr. Ronald Schirmer published a new article, "45 Years Later: Gibbon's Red Wing Models and Their Places in Research Today" in The Minnesota Archaeologist.
CRIMINAL JUSTICE

Congratulations to Law Enforcement Academic Advisor Trudy Kunkel on her retirement at the end of the Fall 2021 Semester. Trudy has served more than 36 years in law enforcement and more than 17 years with Minnesota State University, Mankato.
HISTORY
Dr. Jameel Haque and Dr. Chad McCutchen chaired sessions at the 2021 Northern Great Plains History Conference in Eau Claire. Dr. Lori Ann Lahlum also presented a paper on Norwegian immigrant women, agriculture, and identity on the Northern Great Plains. She served as a participant on a roundtable about #MeToo in the archives, and chaired a session on academics writing for a general audience.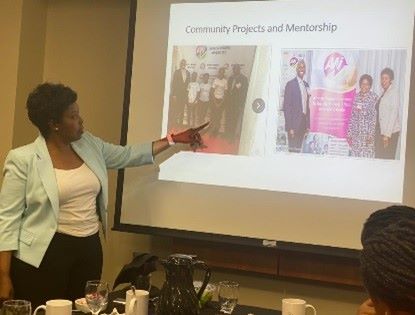 Dr. Agnes Odinga presenting
Dr. Agnes Odinga - Oluoch represented the department of History and College of Social and Behavioral Sciences in her presentation to the delegation from Kisii University in Kenya on November 9th, which included the president and the provost of Kisii University.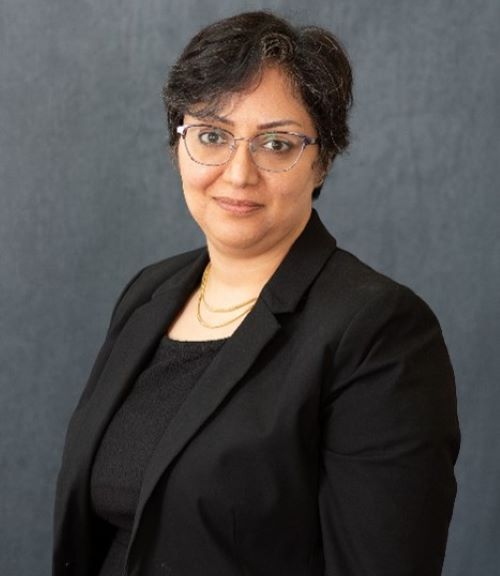 Dr.Yalda Hamidi
Dr. Yalda Hamidi was selected for the National Women's Studies Association's 2021 Feminist Change Agent Award for running the "Islamic Feminism Book Club" in collaboration with the Women's Center. This award recognizes the remarkable work of change agents within the field of women's and gender equity centers that embody intersectional feminist values. This includes campus advocacy, strategic planning and visioning, policy development, and scholarship.
Dr. Yalda Hamidi, Dr. Laura Harrison, and Dr. Maria Bevacqua and graduate students, Tahmina Sobat, Maya Wenzel, Corrin Helget, and Dominik Drabent participated in the Ms./NWSA 2021: Writing for Popular Press workshop in September and October. This workshop was designed to teach academic writers how to write for the popular press. Participants pitched and drafted articles on subjects of interest, received feedback, and learned the fundamental differences between academic and popular press writing.
GEOGRAPHY
Dr. Donald Friend was invited to speak about climate and climate change in international development at USAID for the Plant Pathology Seminar at the University of Kentucky.
GOVERNMENT
Dr. Tom Inglot (Political Science) co-authored a book chapter with Linda Cook at Brown University "Central and Eastern Europe" in the Oxford Handbook of the Welfare State published by Oxford University Press.
PSYCHOLOGY
Dr. Andi Lassiter will be presenting "Augmented Reality as a Training Solution for Manufacturing" as a part of the Technology, Mind, and Society event sponsored by the American Psychological Association which is a peer-reviewed, selective, international conference highlighting innovation in human-technology interaction.
Dr. Eric Sprankle, and current and former clinical psychology graduate students Sam Danielson, Tayler Lyng, and Mariah Severud had their research manuscript, "Satanic Sexuality: Understanding Satanism as a Diversity Issue for Sex and Relationship Therapists" accepted for publication in a special issue on religion and sexuality for the journal Sexual & Relationship Therapy.
SOCIOLOGY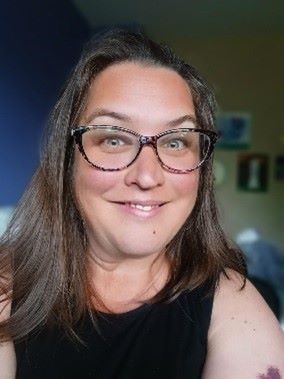 Dr.Sarah Epplen
Dr. Sarah Epplen recently gave the Presidential Address at the Sociologists of Minnesota annual conference on October 14th. Her presentation was titled, "Friends and Enemies: What a Global Pandemic Taught Me about Society".