November 2020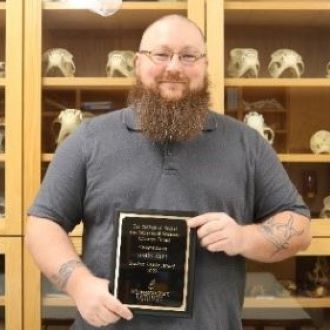 Student new and highlights from across the College of Social & Behavioral Sciences
Expand to View
Close
Anthropology
Graduate Student Justin Kent, was awarded the 2020 SBS Student Leader Award.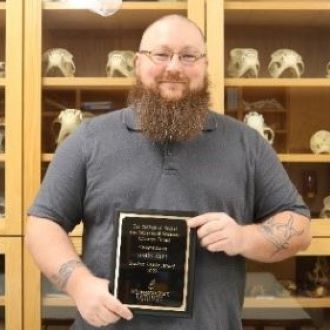 Emily Ruoff (Anthropology alumni) was featured in a documentary, Cornfield Shipwreck on HBO. The show discovers the mystery of the Steamboat Arabia, one of the best-preserved shipwrecks in American history. Read about it in Today magazine.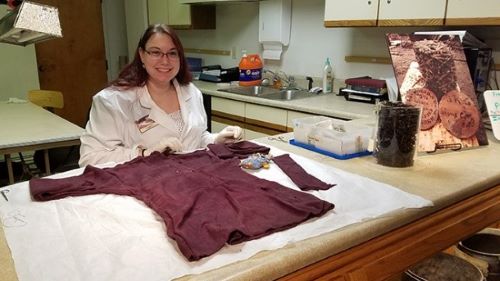 Emily Ruoff sewing an item of clothing unearthed on the shipwreck Arabia.
Geography
Kenzie Shandonay gave a speech, "Stratigraphy and Geomorphic Evolution of Sand Stringers in the Upper Mississippi River Basin" at the Geological Society of America National Meeting.
Government
Ojashwi Adhikari attended a special academic webinar organized by the Council on Foreign Relations in Washington DC, on International Trade Policy: The Future of World Trade Organization with Renee Bowen, the director of the Center for Commerce and Diplomacy. She wrote a report from this meeting for a discussion session in Dr. Tom Inglot's Politics in the Global Community class.
Boni Njenga (Bachelor of Science in Political Science Master of Arts in Public Administration alumni) ran for Hennepin County Commissioner, District 5.
Psychology
McKayla Kurtz, Serena Miller, Russell Tesmer, Elizabeth Tiegs & Dr. Adam Steiner presented "Discerning Fact from (Science) Fiction: Undergraduate Perceptions of Neurotechnology" at International Neuroethics Society.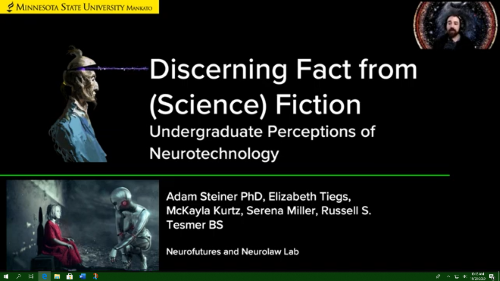 Lindsey Bergin, Emma Rafuse & Dr. Andi Lassiter was selected to present technology-based learning projects, "Infographics Series for a Healthcare Organization" by Bergin & Dr. Lassiter, "Authentic Leadership: A Micro-Learning Portal and Resource Library" by Rafuse & Dr. Lassiter at DevLearn Digital Experience (DDX) DemoFest held online.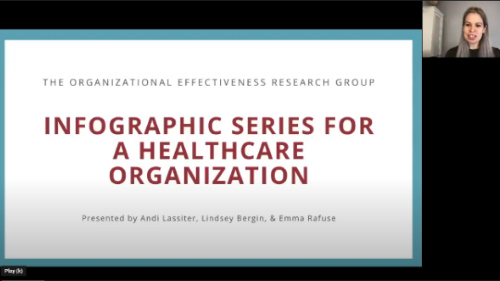 Lindsey Bergin & Dr. Andi Lassiter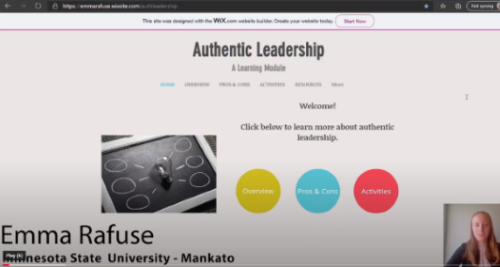 Emma Rafuse & Dr. Andi Lassiter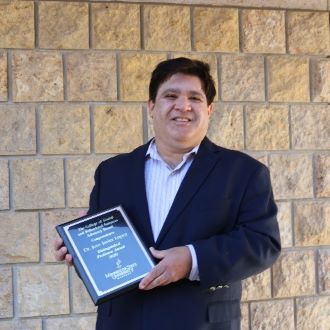 Faculty and department news from the College of Social & Behavioral Sciences.
Click to View
Close
Anthropology
Dr. Rhonda Dass presented "Indigenous Mankato: Past, Present, and Future" for the Greater Mankato Growth Leadership Academy at the Blue Earth Historical Society Museum on Oct. 21, 2020.
Dr. Chelsea Mead has been awarded a system Multi-Campus Collaboration Grant. Her proposal, "Ojibwe Language Consortium" was fully funded to support and expand upon Minnesota State Mankato's emerging collaboration with Bemidji State University teaching Ojibwe language courses.
She has also received $726,338 through GEER grant for her proposal "Equitable Teaching in the Time of Covid-19" to provide more quality education during pandemic.
Dr. Chelsea Mead celebrated the first day of fall semester with her annual pencil cake, social distancing style.
Ethnic Studies
Dr. Wayne Allen presented "The Tipi Time Machine: Going Back in Time and Exploring Traditional Tools and Where They Come From" at Makato Wacipi - Mankato Powwow -Education Day as a member of the Metis Nation of North America.
Dr. Lu Yan was interviewed by Jacob Sanders from Wallethub.com on the topics of race and ethnicity in the most and least diverse states in the U.S.
Geography
Dr. Sudarshana Bordoloi published her first book based on her doctorate dissertation, The Political Economy of Uneven Rural Development. Palgrave Macmillan, Singapore on July 16th, 2020.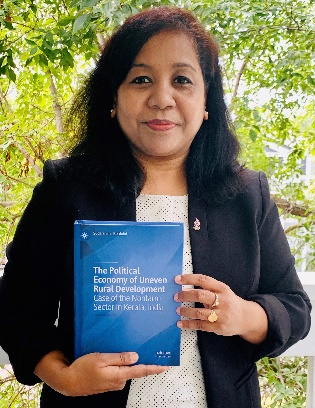 Dr. Jose Javier Lopez was a keynote speaker at 2020 9th International Conference on Social Science and Humanity, which was held online from September 19th – 21st, 2020. The event was hosted by Nishinippon Institute of Technology, Kitakyushu, Fukuoka, Japan. The title of his speech was "The Geography of Bias-Motivated Crimes".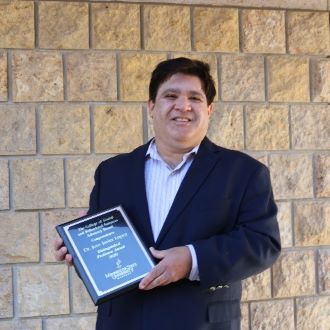 Government
Dr. Josh Berkenpas gave a presentation titled "Populism in the 21st Century" for the Mankato Kiwanis Club on September 8, 2020.
He also received an award for "Exceptional Dedication to and Excellence in Teaching Writing in Political Science" after participating in his third Writing Across the Curriculum Master Class.
New publications by Dr. Tomasz Inglot
Petrova, Tsveta and Tomasz Inglot, eds. Special Section: "Politics and Current Challenges of Demography in Central and Eastern Europe, in East European Politics, Societies, and Cultures, 4, vol. 34 (November) 2020: 879-1004.
Petrova, Tsveta and Tomasz Inglot, "Introduction: Politics and Current Challenges of Demography in Central and Eastern Europe," East European Politics, Societies, and Cultures, 4, vol. 34 (November) 2020: 879-892.
Inglot, Tomasz. "The Triumph of Novelty over Experience: Social Policy Responses to the Demographic Crises in Hungary and Poland since the EU Enlargement," East European Politics, Societies, 4, vol. 34 (November) 2020: 984-1004.
Dr. Pat Nelson started podcast series, Let's Talk Government. New episodes came out every Tuesday starting Sept. 29 to Dec. 8, 2020.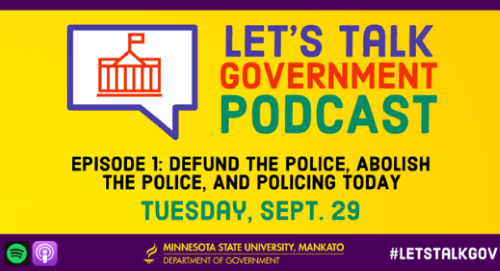 Dr. Fred Slocum published a review of Aram Goudsouzian's book (2019), The Men and the Moment: The 1968 Election and the Rise of Partisan Politics in America. University of North Carolina Press. in Journal of Southern History, 86(2), 535-536 in May 2020.
He has also been interviewed by multiple news agencies for stories pertaining to the 2020 election including the Minneapolis Star Tribune, WCCO Radio, KEYC-TV, and MinnPost. Courthouse News Service published an article about this interview.
Dr. Fred Slocum & Dr. Kevin Parsneau were guest speakers at Election Day 2020: What Can You Expect? on October 27, 2020. Dr. Slocum was interviewed for a follow-up story on the panel on KEYC-TV.
They were also interviewed by Jonathan Fjeld from KMSU Radio for the station's Southern Minnesota News Project on October 28, for a story pertaining to the Election Day 2020 event.
Psychology
Dr. Kristie Campana was featured in WalletHub's recent piece about the Happiest States in America.
Dr. Karla Lassonde presented Enhancing Memory and Attention Through the Science of Learning at the 41st Annual Frontier Forum on Oct. 29. Presentation slides and a recording will be available soon.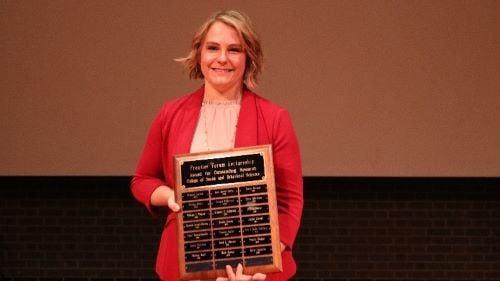 Dr. Eric Sprankle was cited in an article in InsideHook about the nature of porn research.
Social Work
Dr. Nancy Fitzsimons published the article, Reframing the Problem of Sexual Victimization of People with Disabilities in JSM Sexual Med 4(4), 1039 on June 4, 2020.
MSW students Michaela Bruder, Courtney Colton, Allyson Endersbe, Julia Lutz-Lawlor, Marissa Mammenga, and Jessica Schisel had their letters to the editor printed in the Mankato Free Press and Waseca County News!
SOCIOLOGY
Dr. Carol Glasser completed an assessment for the University of International Students and their experiences with COVID-19 at Minnesota State University.