9/11 Museum Teacher Professional Development
Thursday, August 25, 2022
9:00 AM - 3:20 PM
Centennial Student Union Room 245
September 11, 2001: The Day That Changed the World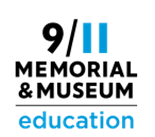 Discover classroom-ready strategies and resources that help students understand 9/11 and its ongoing impact. In addition to building foundational knowledge, this session will focus on concrete strategies and entry points into a variety of challenging content areas, including teaching 9/11 through first-person testimony, the shifting balance between national security and civil liberties, and the rise of Islamophobia. Help students make connections to self as we explore how our experiences navigating the pandemic can inform teaching and learning today.
Presented by the 9/11 Memorial & Museum
Offered at two times:
9:00 a.m. - 10:50 a.m.
1:30 pm. - 3:20 p.m.
This event is free. Space is limited to 30 seats per session. Registration is required.