Communications & Events Graduate Assistant Position Available
Applications accepted through November 20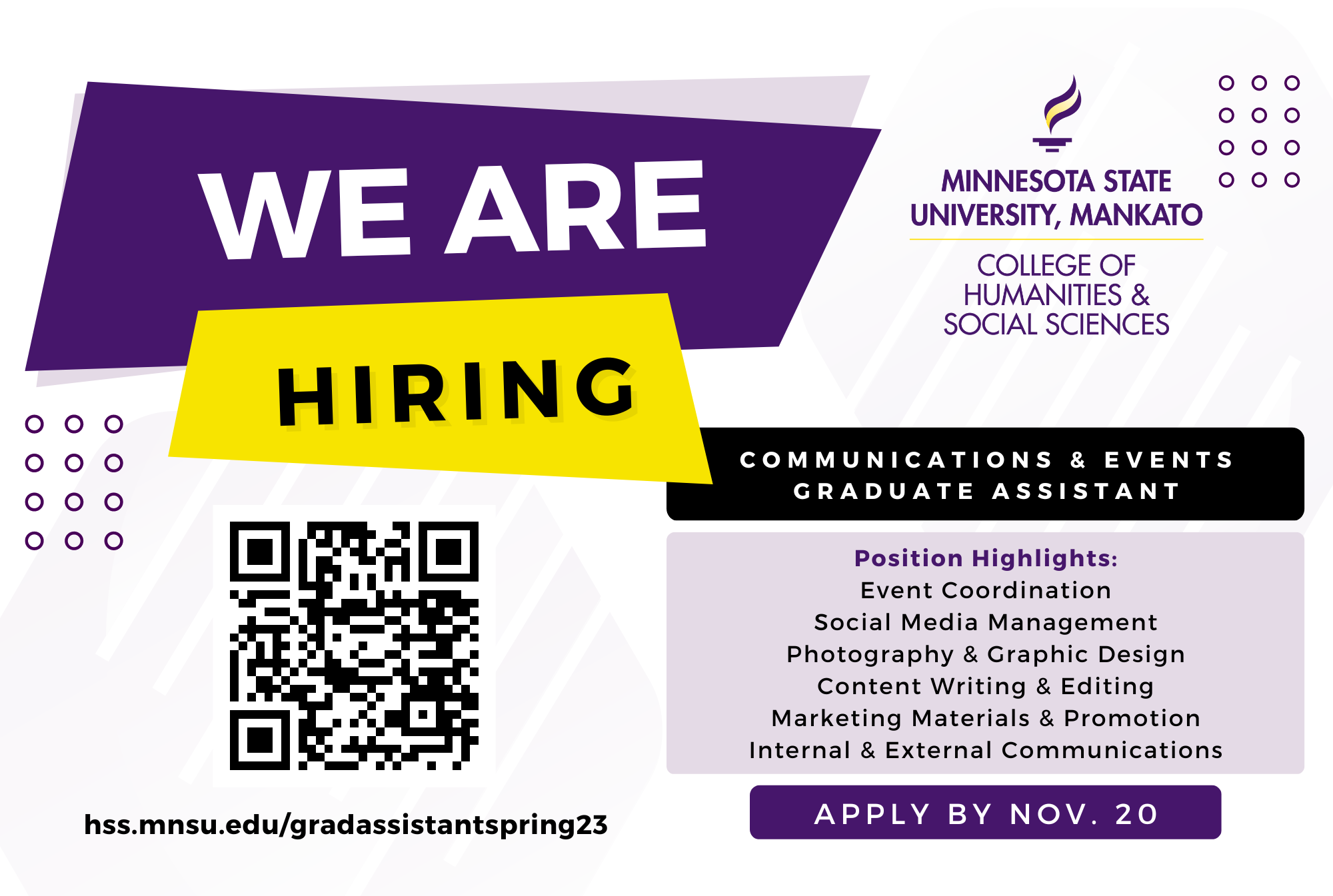 The College of Humanities & Social Sciences has an opening for a Communications & Events Graduate Assistant in the Dean's Office beginning Spring 2023.
Communications & Events Graduate Assistant, HSS Dean's Office
RESPONSIBILITIES: Works with the Director of Communications & Events. Duties include assisting with:
Planning, development and implementation of college events, programs, and projects
Development, editing and distribution of internal and external college communications, including newsletter articles and website content
Create and manage social media content
Creation and distribution of marketing materials
Planning and executing special projects as requested by the Dean
Administrative support for college committees and advisory boards within the college
Collecting and organizing data
Other duties as needed, including office support
REQUIRED QUALIFICATIONS:
Graduate student at Minnesota State University, Mankato.
Computer skills with working knowledge of MS Word, Excel, and PowerPoint.
Ability to work with graphics (i.e., photos or other images)
Experience with simple publication programs and layout.
Strong written and verbal communication skills.
Must have good organizational skills and the ability to work independently and with others.
PREFERRED QUALIFICATIONS:
Experience working with events, social media and Adobe Creative Suite.
Undergraduate degree or current graduate work in one of the programs included in the College of Humanities & Social Sciences (formerly the College of Social & Behavioral Sciences and the College of Arts & Humanities).
Demonstrated commitment to fostering a diverse working and learning environment.
RELATED INFORMATION: Contingent on satisfactory performance and available funding, there is a possibility that this appointment may be continued beyond the initial period of employment. Graduate assistants are required to enroll for a minimum of six credits per semester at the graduate level. Additional information about graduate assistants at Minnesota State University, Mankato are available at http://grad.mnsu.edu.
TO APPLY: In order to be considered for this position, please submit
Cover letter

Brief resume

Unofficial transcript

Three references
Email materials for consideration to rebecca.gunderman@mnsu.edu.
---
CONTACT
Elyse Anderson, Director of Communications & Events
Phone: 507-389-1255
TTY: 800-627-3529 or 711