2023 HSS Advising Excellence Awards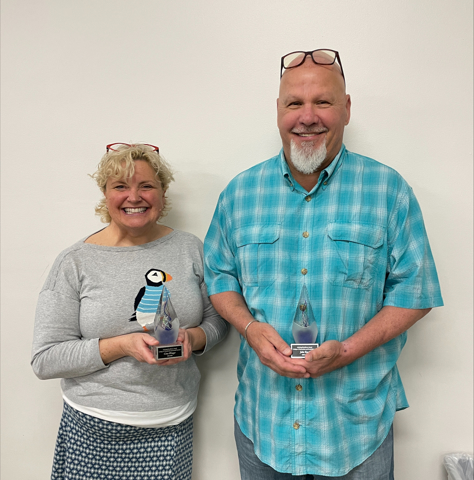 Congratulations to the first recipients of the HSS Advising Excellence Awards, Dr. Gina Wenger, Department of Art & Design; and Dr. John Reed, Department of Criminal Justice. Students nominate advisors who have made a lasting impact on their academic journey. The winning nominees not only helped guide students to meet their academic goals but demonstrated an incredible level of care by actively supporting students through challenges during their time here. These nominations highlight the importance of advising going beyond course selection, and that great advising is defined by our ability to help our students grow while here and beyond.
Dr. Gina Wenger
Dr. Gina Wenger's nominations spoke to her willingness to go above and beyond, her compassion, and her ability to hear her advisees. Thank you, Dr. Wenger, for seeing your advisees' potential and the care that you demonstrate for each of them.
Students have their say:
Over the course of my close to five years at Minnesota State University, Mankato I have had 5 advisors, Gina was the first advisor I had who genuinely made me feel like I belonged in the space I was in and showed that she cared about my education, my future, and my now.
Dr. Gina is very personable and makes you feel safe and comfortable. I could go on and on about how Gina is a wonderful advisor, professor, and human being in general. Gina is why I decided to keep going. I was close to giving up on college and she pushed me and made me feel like I belonged here and that I can do it.
Gina is so passionate and influential to her students. She's made me so excited to teach art and is the best advisor I've ever had. I have become more exited and passionate about teaching art and inspiring future students like Gina did for me!
Dr. John Reed
Dr. John Reed's nominations spoke of his positivity, the gratitude they have for the support they received, and how he promotes integrity and initiative to his students. Thank you, Dr. Reed, for the support you have provided students in a challenging field that needs people who care and seek to mend past harm.
Students have their say:
Dr. Reed has spent countless hours looking over students' resumes, cover letters, and applications. Minnesota State University Mankato is lucky to have a dedicated professor who cares about his students' success as he does. I have never had a professor like him.
Professor Reed has left a great impact on me as a person and as a future peace officer. He has always been an approachable person to talk to about academics, future career goals, and desires. Minnesota State University, Mankato is lucky to have a role model like John Reed and I wish every law enforcement student around the United States could have him as a professor.
Dr. Reed checks in with every student many times throughout the semester just to see if they are doing okay. He has reignited my passion for learning. He formats his classes in such a way that makes you want to learn more and have discussions on important topics.