Music Industry Major Bailey Frerichs Awarded Prestigious 2023 Live Nation/Move Forward Foundation Award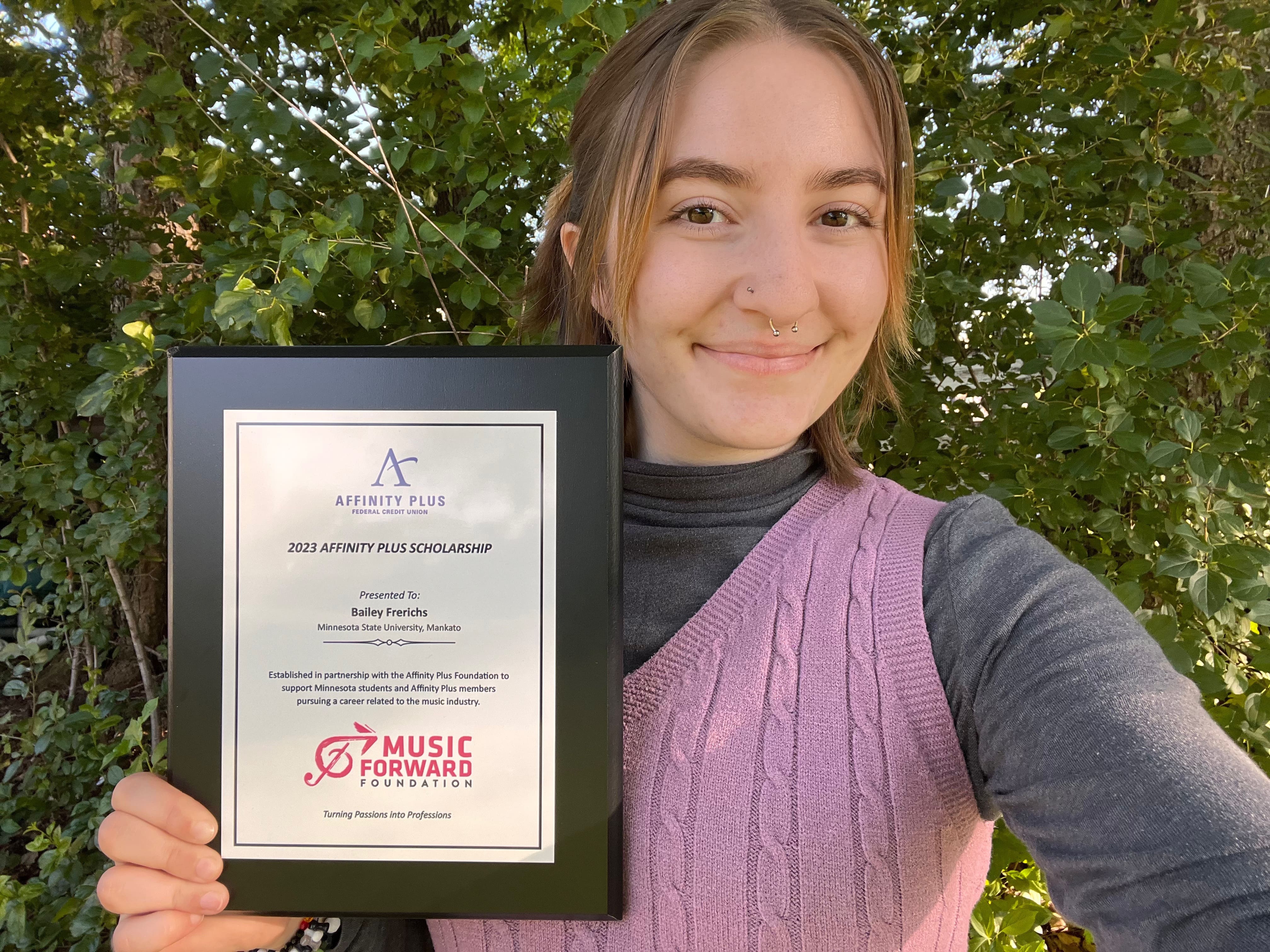 Live Nation, the world's leading live entertainment company, in partnership with the nonprofit Music Forward Foundation, has announced the recipients of its 2023 scholarship awards. Six outstanding college students from colleges across the United States pursuing music industry careers have been awarded a total of $50,000 in scholarships.
"We are proud to grant these scholarships to this group of aspiring young professionals looking to carve out a path for themselves within the live entertainment industry," said Jordan Zachary, Co-President of US Concerts, Live Nation. "Through impactful programs like the Music Forward Scholarship, we continue our commitment to investing in and empowering the next generation of leaders in our industry," added Omar Al-joulani, Co-President of US Concerts, Live Nation.
Bailey Frerichs, a 21-year-old rising senior at Minnesota State University, Mankato received a dedicated award from Affinity Plus Federal Credit Union, the marquee sponsor of a Live Nation venue, designated for local college students pursuing a career related to the music industry.
Frerichs is a Dean's List recipient whose passion for live music has driven her to gain experience in multiple different sectors including hospitality, marketing, and event coordination. Frerichs is determined to explore all sectors of the industry so she can be versatile and help support venues wherever they may need.
"Receiving the Affinity Plus Scholarship means more to me than I can truly give justice to with my words alone." Frerichs continued, "Finding out I was the 2023 recipient of this scholarship showed me that the hard work and sacrifices I have made to start building credibility and a name for myself in the music industry are not happening without appreciation and notice from those around me. I truly would be nowhere without the financial support and opportunities like this that have been graciously gifted to me."
Scholarship selections were made by an influential panel of executives and thought leaders across the entertainment, civic, and corporate sectors. Reviewers included committed professionals from companies and organizations across the country including Live Nation, Ticketmaster, Concord, BMG, and Fundamental Music.