MSU Prints: Josh Winkler and Students Showcasing in the Schaefer Art Gallery
February 27, 2023 to March 31, 2023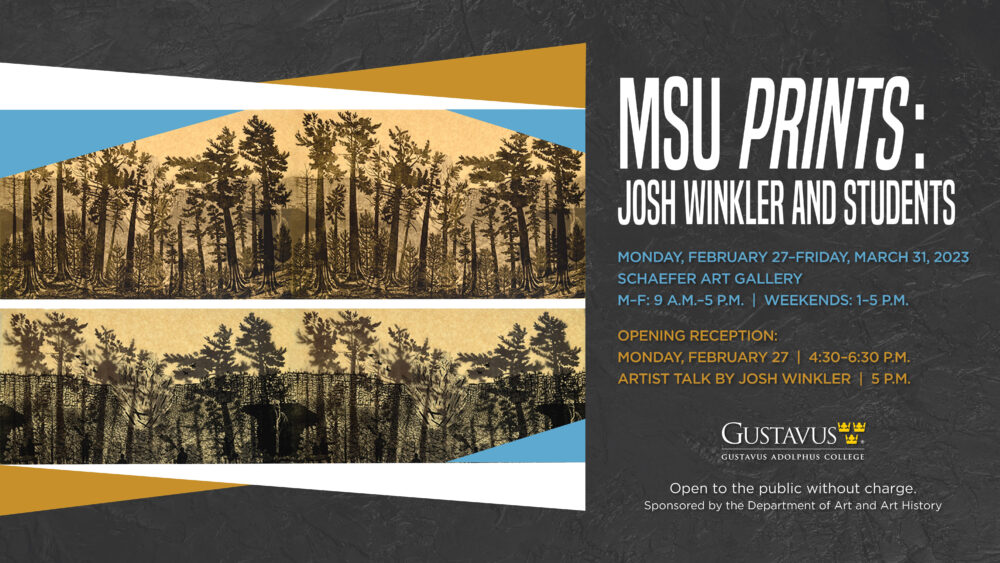 Minnesota State University Mankato and Gustavus Adolphus College collaborate to create MSU Prints: Josh Winkler and Students, a print exhibition. This exhibition will be on display in the Schaefer Art Gallery from February 27 to March 31. There was an opening reception on Monday, February 27; from 4:30 to 6:30 p.m.
Josh Winkler, associate professor of printmaking at Minnesota State University, Mankato joins Nicolas Darcourt, visual arts professor in the Gustavus Art and Art History Department, who has been pivotal in orchestrating this collaboration and ensuring its success. This exhibition will include works by both Winkler and his students.
"The first floor of the gallery highlights the work of two current Master of Arts Candidates in printmaking, Mai Tran and Taryn Sakry,". "The second floor showcases a large collaborative project alongside individual works created by BFA printmaking students, and the third floor shows a collection of my recent work," said Winkler.
Both Darcourt and Winkler express that while the artistry and effort that has been put into creating these prints is essential, the collaboration between students, professors, and schools adds another layer to this exhibit.
The collaboration between Gustavus Adolphus College and Minnesota State University, Mankato in developing MSU Prints: Josh Winkler and Students highlights how art functions to bring people together in collaboration and community. The exhibit is on display until Friday, March 31st. Entry is free and open to the public. It will be open from 9 a.m. to 5 p.m. Monday through Friday, and from 1 p.m. to 5 p.m. on weekends.
Read the Full News: MSU Prints: Josh Winkler and Students