Nadine B. Andreas Endowment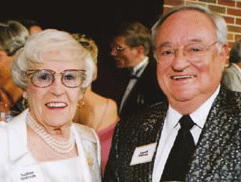 The Nadine B. Andreas Endowment is a cornerstone of the College of Humanities & Social Sciences at Minnesota State Mankato. Thanks to the Andreas Endowment, the college has been able to host dozens of guest scholars and artists who have enriched our programming beyond measure. The endowment also provides graduate assistantships throughout the college, and supports the research and artistic endeavors of our faculty.
The Nadine B. Andreas Endowment was established by Lowell Andreas, his son David and his daughter-in-law Debbie in memory of their wife and mother Nadine. Nadine was born in West Liberty, Iowa, and attended the University of Minnesota, where she performed in theater productions and developed a love for the arts. She fostered this love through her sustained support of the arts at Minnesota State University, Mankato.
"The most exciting thing to me is that it's such a wonderful reflection on Lowell and Nadine because it's practical, yet it's visionary," said Dean Emeritus, Dr. Jane Earley. "Lowell and Nadine could have lived anywhere. But they didn't. They chose Mankato ... This tribute is astonishing and will make huge changes to the lives of our students and faculty as these events come to fruition."