Andreas Guest Dance Artists
On an annual basis as part of the Worlds of Dance Course, the Dance Program invites world dance artists to campus for master classes. These classes are open to anyone to observe or participate in. There is no registration or fee to attend. All master classes are made possible by the Nadine B. Andreas Endowment Program.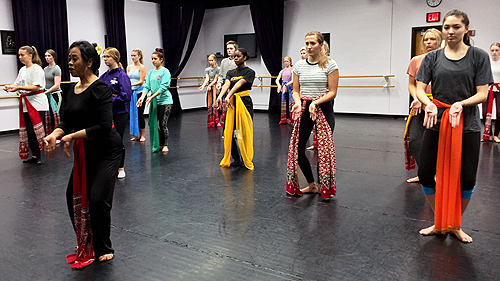 Photo by Corrie Eggimann. Classical, Javanese Court Dance Course with Tri Sutrisno.
---
2019 Fall Semester Dates, type of dance, and Guest Artists:
Wednesday, September 11th - Classical Javanese Dance with Tri Sutrisno
Monday, September 30th - Nepalese Classical and Folk Dance with Parisha Rajbhandari
Monday, October 21st - Powwow Fancy Dancer with Larry Yazzie
Wednesday, November 6th - Caribbean Dances of the Orisha with Giselle Meija