Jacob Fager Travels to Norway for a Viking-Age Internship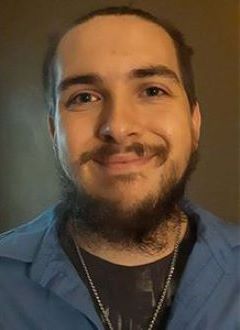 History graduate student Jacob Fager traveled to Borre, Norway over the 2019 summer break. Jacob gained immensely valuable experience by job shadowing, Fredrik Bjønnes, the museum director of the Midgard Vikings Center as well as several other members of the Center's staff. The Center is located near the Borre burial mounds which contain the largest concentration of burial mounds from the Viking age in northern Europe & are among Norway's most beloved cultural heritage sites. The center's focus is to engage visitors in an interactive historical experience that makes history come alive in the present. Jacob frequently helped to guide primary school children & tourists through the center and learned how to make Viking history exciting & engaging for all types of visitors.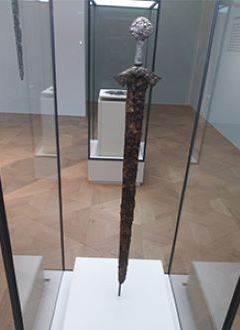 Jacob also went on excursions to Oslo and Tønsberg. In Oslo, Jacob met with museum curator, Kathy Elliot, at the National Historical Museum to discuss exhibition design and teaching history to diverse audiences. He also met with Ole Flåtten in Tønsberg who works on the reconstruction of Viking ships at Saga Oseberg They discussed the traditional methods behind reconstructing a Viking ship to retain its historical authenticity.
Among Jacob's favorite experiences was the Viking Summer event at the Midgard Viking Center. He helped staff train guests of the museum in Viking combat & lent a helping hand wherever needed. The Viking Summer event is an interactive historical experience that allows visitors to participate in hands-on combat training, net weaving, and breadmaking as well as Viking games such as tug of war and Kubb.
Interview with Jacob
What was your favorite part of the trip?
J: Just being able to be where all the Viking history happened & be around real historical sites was a fantastic experience. It made what I read about at home concrete and real.
What was the most valuable thing you learned about history?
J: I think the most valuable thing I learned is that perspective changes based on where you go. I had lots of questions about Viking history that many in America could not answer but Norwegian curators had immediate answers to. Having a clear understanding of different perceptions was very valuable to learn.
What was your favorite historical object to see?
J: The Langeid sword. It's cool to look at for one but it also symbolized the transition from Viking age clan society to a feudal age.
What was the most valuable thing you learned about travel and culture?
J: Take the time to plan. When I first got there, I thought I had a solid plan to travel from city to city but what I thought would happen didn't because I didn't know how the public transportation worked. Thoroughly do your research on prices and the best ways to travel while abroad. In terms of culture, just be open. Accept that it's not going to be like home and embrace it because you'll have a much better time.
Would you recommend an international internship to other students?
J: Yes. It's a fantastic experience to just travel and see someplace else to get a different perspective.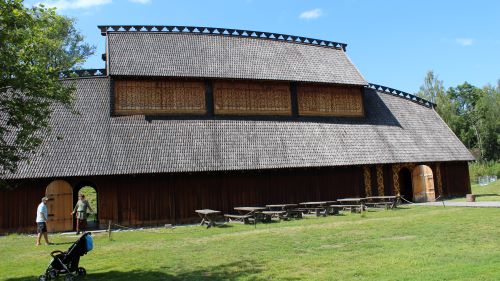 Replica Feast Hall, Midgard Viking Center Museum, Borre, Norway