MFA in Creative Writing Alumni
Recent graduates and current students have published work in the New Yorker, Harpers, and the Kenyon Review, and have appeared in the Washington Post and on Good Morning America. They are NEA Fellows, Jerome Hill Fellows, and Tin House Fellows. They have won the Kirkus Prize for fiction, the National Poetry Series, the Split/Lip Turnbuckle Chapbook prize, and have had work listed among the best books of the year by NPR. They run magazines and literary organizations. They've gone on to to take teaching positions at major universities, in MFA programs, and at colleges across the country.
Our monthly newsletter offers updates from our current and former MFA students, faculty, and friends.
Pictured: just a few of the books by our alumni.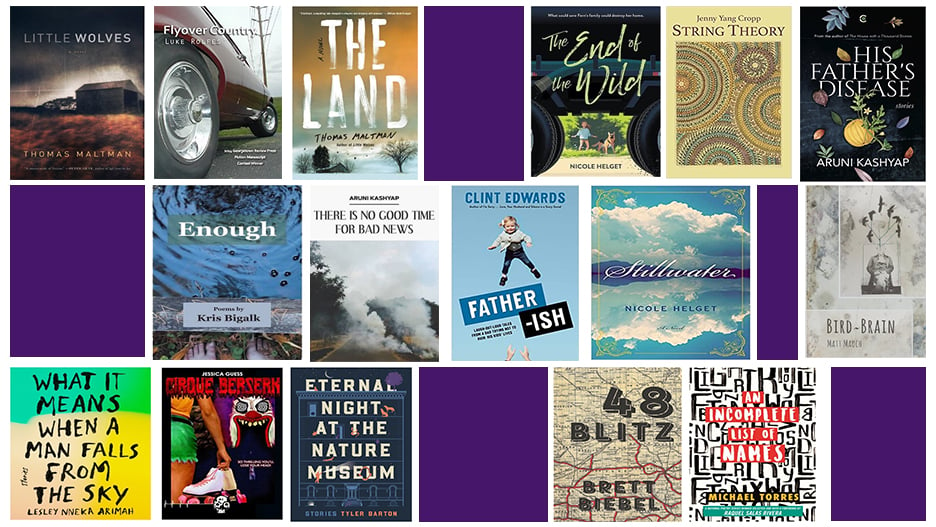 First row of books: Little Wolves by Thomas Maltman; Flyover Country by Luke Rolfes; The Land by Thomas Maltman; The End of the Wild by Nicole Helget; String Theory by Jenny Yang Cropp; His Father's Disease by Aruni Kashyap
Second row of books: Enough Poems by Kris Bigalk; There is No Good Time for Bad News by Aruni Kashyap; Father-ish by Clint Edwards; Stillwater by Nicole Helget; Bird-Brain by Matt Mauch
Third row of books: What it Means When A Man Falls from the Sky by Lesley Nneka Arimah; Cirque Berserk by Jessica Guess; Eternal Night at the Nature Museum Stories by Tyler Barton; 48 Blitz by Brett Biebel; An Incomplete List of Names by Michael Torres