New & Current Student Opportunities
Below you will find information on new and current student auditions and how to apply to be dance major. We also offer several dance activities and events beyond campus to be involved in.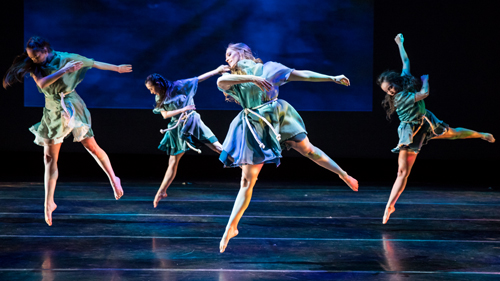 Photo by Dan Norman. North Shore by Julie Kerr-Berry.
Let us know about your interest studying Dance:
It's never too early to let us know about your interest in studying Dance. There are several ways to learn more about our program and to meet our faculty.
Contact Daniel Stark to schedule a visit to observe an array of classes and = to tour our facilities
Consider attending one of our semester-end dance concerts (usually the beginning of December and end of April/early May)
Attend our annual high-school dance workshops typically held in early October
---
New Student Placement, Talent Grant, & BFA Student Auditions:
All new first-year, transfer, and BFA student applicants must audition for placement in classes. Auditions occur in March and August of each year (the first week of classes each semester). Students will indicate on audition day if they auditioning for new student placement, talent grant or to be a BFA student. The purpose of the new student placement audition is to determine what level of dance technique you should be in. Regardless of what you are auditioning for, the audition day will be the same for all students. The next audition will occur on Friday, March 15, 2024.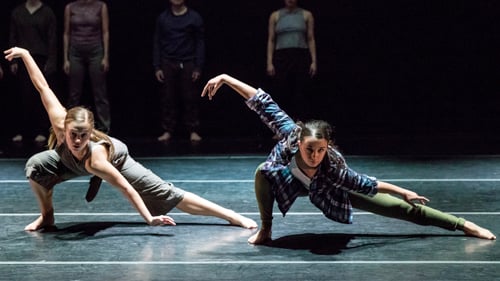 Photo by Dan Norman. Hard Feelings by Dan Stark.
---
Dance Concert Auditions:
Each fall and spring semester, auditions for dance concerts are held the first Wednesday of classes, from 1:30-3:00pm in 126 Earley Center for Performing Arts Center (PA 126). View all Theatre & Dance Department audition opportunities.
Reminder: If cast in a faculty work, please see Julie Kerr-Berry or Daniel Stark if you are interested in receiving Dance Repertory (DANC 428) credit. You must add this course by the end of the first week of classes.
---
Beyond Campus Opportunities & Dance Coalition:
We also offer several dance activities and events beyond campus which students become involved in.
Each spring, students have the opportunity to attend the North Central conference of the American College Dance Association, which is held each year in the upper midwest region of the United States. This conference is an extraordinary event for students to dance, perform, and view college dance from the region.
The purpose of the Dance Coalition is to advance the appreciation of the art of dance for the members as well as the surrounding community.