History Lecture Series
Upcoming Events:
Racial Discrimination in the Upper Midwest: A Mapping Mankato Panel Discussion
TUESDAY, MARCH 14, 2023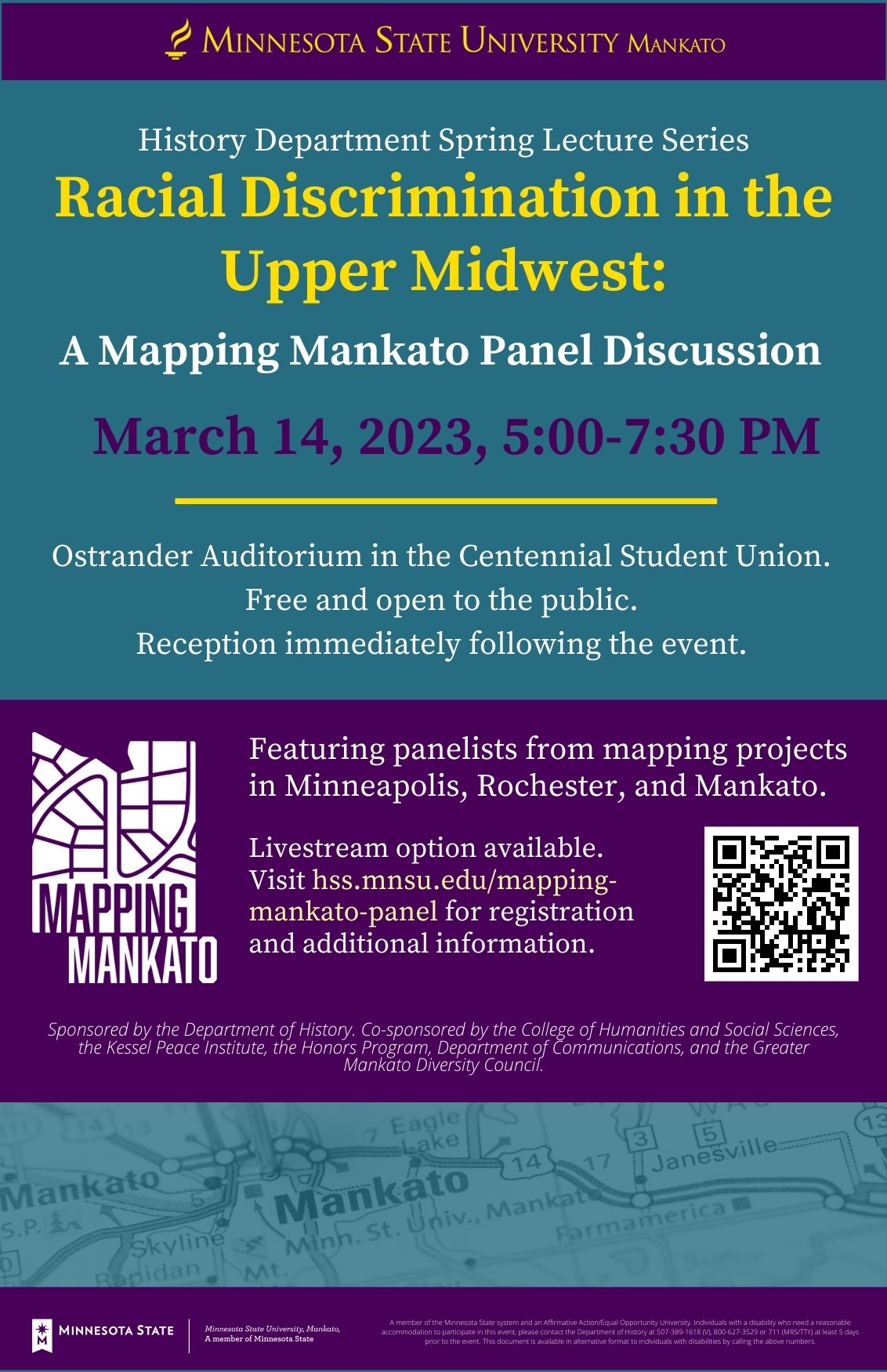 5:00 PM - 7:30 PM
Featuring panelists from mapping projects in Minneapolis, Rochester, and Mankato. The event is Free and Open to the public and will be held in Ostrander Auditorium, Centennial Student Unio.
Virtual option available. Registration is required to receive webinar login information.
Sponsored by the Department of History. Co-sponsored by the College of Humanities and Social Sciences, the Kessel Peace Institute, the Honors Program, the Department of Communications, and the Greater Mankato Diversity Council.
---
Crossroads: Where History and Creative Writing Meet
February 28, 2023, 4-5:30 p.m.
Presenter: Dr. Rachael Hanel, Department of English and author of "Not the Camila We Knew. "
Reception and book signing to follow the lecture. This events is sponsored by the Departmetn of History and the Department of English.
---
Past Events:
Whiteness in Plain View: A History of Racial Exclusion in Minnesota
A Book Talk with the Author Chad Montrie
Chad Montrie is a professor in the history department at the University of Massachusetts, Lowell. He is the author of four books, including The Myth of Silent Spring: Rethinking the Origins of American Environmentalism. His article "In that Very Northern City: Recovering a Forgotten Struggle for Racial Integration in Duluth" appeared in the Summer 2020 issue of Minnesota History magazine. Event Sponsored by the Department of History, Department of Gender & Women's Studies, Kessel Peace Institute, African American Affairs, and Department of Government.
View a recording of this event from September 16, 2022:
View slides from this presentation (PDF).
Baised Books: A Discussion of History Textbooks
Panelists: Dr. Jameel Haque, Dr. Chad McCutchen, Dr. Agnes Odinga & Dr. Kyle Ward
View a recording of this event, which was held March 22, 2021: