Criminal Justice Career and Internship Fair
Fall 2022 Criminal Justice Career and Internship Fair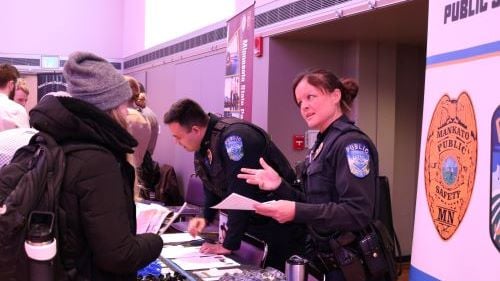 The Department of Criminal Justice is hosting a Criminal Justice Career and Internship Fair on Thursday, October 6, 2022 in the CSU Ballroom from 11am - 2pm. Learn about agencies, talk to professionals about full-time and part-time positions, and learn about internships that are available!
There will also be break out sessions in CSU 201. See below for the Break Out Session Information and the agencies and organizations who are attending the Career Fair.
---
Break Out Sessions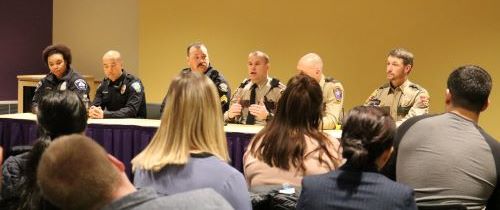 Professionals will be joining panels during the break out sessions to talk about specific topics. All break out sessions are in CSU 201.
Local Law Enforcement (11 - 11:20am)

Kyle Gibbons, Chaska Police Department
Alex Burg, La Cross Police Department
Dakota Wendell, Mankato Department of Public Safety
Keia Boyd, Minneapolis Police Department
DeAndre Clarke, New Brighton Department of Public Safety
Paul Gronholz, Rochester Police Department
Annie Baumgart, Saint Paul Police Department
Randy Boyden, South St. Paul Police Department

Community Corrections (11:30 - 11:50am)

Kelly Hartlieb, Arrowhead Regional Corrections
Brandon Head, Dakota County Community Corrections
Dodge and Olmsted Community Corrections
Sean McMonagle, MN Department of Corrections - Field Services
Jayme Brisch, Ramsey County Community Corrections
Tracy Zabel, Rice County Community Corrections
Scott County Community Corrections

County/State Law Enforcement (12:30 - 12:50pm)

Blue Earth County Sheriff's Office
Jason Seidl, Brown County Sheriff's Office
Jordan Klug, Dakota County Sheriff's Office
Dane County Sheriff's Office
Becky Robinson, Minnesota Sex Offender Program & Forensic Services
Minnesota State Patrol
Omsted County Sheriff's Office
---
Agencies Attending the Fair
Alexandria Technial and Community College
Arrowhead Regional Corrections
Blue Earth County Sheriff's Office
Brown County Sheriff's Office
Chaska Police Department
Dakota County Community Corrections
Dakota County Sheriff's Office
Dane County (WI) Sheriff's Office
Dodge and Olmsted Community Corrections
Hennepin Technical College
Horizon Homes, Inc.
La Crosse (WI) Police Department
Mankato Department of Public Safety
Maplewood Police Department
Minneapolis Police Department
Minnesota Association of County Probation Officers (MACPO)
Minnesota Department of Corrections - Field Services
Minnesota Department of Corrections - Prisons
Minnesota Department of Human Services - Minnesota Sex Offender Program
Minnesota State Patrol
New Brighton Department of Public Safety
Olmsted County Sheriff's Office
Ramsey County Community Corrections
Rice County Community Corrections
Rochester Police Department
Saint Paul Police Department
Scott County Community Corrections
South St. Paul Police Department
Waseca Correctional Facility - Federal Bureau of Prisons
---