Job Opportunities
Anoka County Community Corrections
This is for the probation officer assistant position. We are also offering paid internships at 24.17 an hour.
---
Blue Earth County Sheriff's Office
Apply to Join our Correctional Officer Team!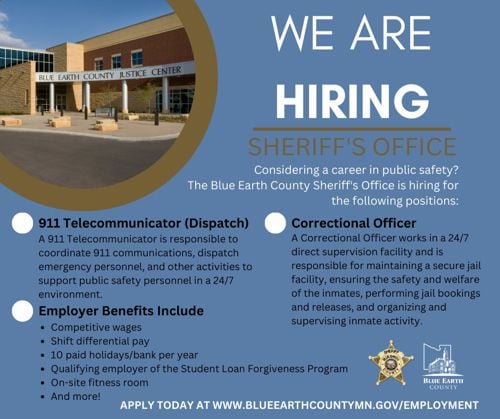 Under the direct supervision of the Assistant Jail Administrator, this position is responsible for the professional administration and enforcement of all federal, state, and local laws as well as the provision of other law enforcement services to the public. The Correctional Officer works in a 24/7 direct supervision facility and is responsible for maintaining a secure jail facility, ensuring the safety and welfare of the inmates, performing jail bookings and releases, and organizing and supervising inmate activity. This position is also responsible for assuring the preparation and service of medications, and meals, collecting financial transactions, providing public relations information, and maintaining administration and facility records.
The Blue Earth County Sheriff's Office is looking for correctional officers to join our team. We are looking for individuals to work in the jail that:
Care about Public Safety
Possess a strong work ethic
Have integrity and a passion for working with people
Complete a pre-employment screening
Why apply?
Competitive starting salary
Shift differential for the evening shift
Robust employee benefits
Onsite fitness room
Paid 8-week training program
10 paid holidays/bank per year
Retirement plan with employer contributions
Overtime opportunities
Accelerated progression wage scale
---
Chaska Police Department
The Chaska Police Department is looking to hire a CSO Intern, visit their website for more information.
---
Coon Rapids Police Department
The city is accepting applications for a Police Officer, we will have multiple vacancies (3). The posting will be open until 3/6/2023 at 4:30 pm.
If you know someone who would be a great addition to the city, please encourage them to apply. Click on the link below for details regarding the position and how to apply.
---
Eagle Lake Police Department
Eagle Lake is currently looking to hire a 4th full-time officer. We are located just a few minutes east of the large regional center of Mankato. Eagle Lake residents mostly work outside of the city during the day but come home after work and enjoy a high quality of life in our community that is clean, quiet, and safe. Our police department does an excellent job with community policing and engaging with our community members. If you know of a soon-to-be graduate or someone that may have graduated recently that is looking to work in a smaller community with access to the amenities that a larger city like Mankato has to offer, then Eagle Lake might be a great fit.
The City of Eagle Lake is currently accepting applications for the position of Police Officer (Full-Time). The Police Officer protects the citizens of Eagle Lake through crime prevention and detection by patrolling on foot, by bicycle, or in a vehicle and builds police officer/resident relationships through positive interactions with community members.
Minimum qualifications: Associate of Arts or Associate of Science Degree in law enforcement; licensed or eligible to be licensed by the Minnesota P.O.S.T. Board.
For a complete job description and application,
call 507-257-3218 or visit: http://www.eaglelakemn.com/city/employment-opportunities.
Applications are accepted until the position is filled. The City of Eagle Lake is an EO, AA Employer.
---
Freeborn County Sheriff's Office
Description:
Come and be a part of a dynamic growing team and live in a community that supports our Law Enforcement. Applicants must be Minnesota P.O.S.T. licensed or eligible to be licensed at the time of employment. The minimum starting pay is $29.1310 /hr. although willing to negotiate pay based on the review of qualifications and/or experience.
Freeborn County offers a robust benefits package including vacation / sick, life insurance, dental, vision, short-term and long-term disability, AFLAC, PERA, Nationwide, flex spending, medical with extremely generous VEBA contributions, and a free clinic for employees and their family members.
Job Details:
The Patrol Deputy is responsible for patrolling County roads, city roads, State Highways, and Interstates, conducting snowmobile and boat patrol, and enforcing state and local laws. This position responds to citizen complaints and emergencies and investigation of illegal activity. Under the direction of the Sheriff and supervisors, this position performs general law enforcement work to protect life and property and enforce local laws and ordinances throughout Freeborn County. Duties include: protecting and assisting the public by responding to a variety of calls or citizen complaints; responding to emergencies such as crashes, fires, domestic assaults, fights, burglaries, and alarms; assisting detectives by investigative groundwork for illegal activity; performing a variety of court duties, and paperwork; resolving conflict and mitigating civil disagreement. This position must maintain good relationships and assist other departments and other law enforcement agencies, emergency services, and social services.
Education and Experience:
Two-year Associates degree in Law Enforcement or equivalent as approved by the Minnesota POST Board.
Licenses/Certifications
This position will require the acquisition and maintenance of the following additional certificates/licenses:
MN Peace Officer License
Emergency Vehicle Operation
Firearms/Use of Force/Taser
Class D Driver's License or equivalent
AED/First Aid and CPR
Competencies Common to All County Positions
Develop, maintain a thorough working knowledge of, and comply with all office and applicable County policies and procedures
Demonstrate by personal example the spirit of service, excellence, and integrity expected from all staff.
Develop respectful and cooperative working relationships with co-workers, including willing assistance to the newer staff so job responsibilities can be performed with confidence as quickly as possible.
Confer regularly with and keep immediate supervisor informed of all-important matters which pertain to the applicable job functions and responsibilities.
Represent Freeborn County in a professional manner to the public, outside contacts, and constituencies.
The minimum starting pay is $29.1310 /hr. although willing to negotiate pay based upon a review of qualifications and/or experience.
More info on The Freeborn County Sheriff's Office.
---
Hastings Police Department
We are currently hiring 2-3 patrol officers and the job posting can be found on the Career Page.
---
Lakeville Police Department
Attached is the job posting for Lakeville Police Department. We are currently hiring for two positions.
---
Lino Lakes Police Department
Thanks for the invite to the job fair below our the links to our job postings. We are hiring officers as well as a CSO.
---
Mankato Department of Public Safety: Reserve Officer Position
The Mankato Department of Public Safety is accepting applications for Reserve Officer Positions. You can email Sergeant Stephanie Wilkins at swilkins@mankatomn.gov for more information and an application.
---
Minneapolis Airport Police
The Minneapolis Airport has current openings for 7-9 police officers.
View more information on current job openings
Ride Along Opportunities:
The Minneapolis Airport Police welcomes any students who would like to participate in a ride-along. To schedule a ride-along, email
AirportPDrecruiting@mspmac.org
.
---
Minneapolis Police Department
Minneapolis Police Department is currently Hiring Police Officer Recruits.
---
Minnesota Department of Corrections
The Minnesota Department of Corrections is Hiring Trainee-Corrections Officers. Have you ever thought about a career in corrections but are not sure where to start or if you even meet the Minimum qualifications? Here is your chance to connect with a recruiter today, click here on Current Openings / Department of Corrections (mn.gov), They will be happy to talk to you about the different career paths within the department and walk you through how to apply.
Why work for the Minnesota Department of Corrections? There is great pay, excellent benefits, paid training, and the opportunity to work in so many different locations should you need or want to move. We have locations in Faribault, Lino Lakes, Moose Lake/Willow River, Oak Park Heights, Red Wing, Rush City, St. Cloud, Shakopee, Stillwater, and Togo
---
Minnesota State Patrol
The Minnesota State Patrol (MSP) provides an exciting and meaningful career that goes beyond the highway. Today, nearly 600 State Troopers provide assistance, education, and enforcement to state citizens and provide for safe, efficient movement of traffic on Minnesota's roadways. Troopers also investigate and reconstruct serious crashes, conduct flight patrols and search and rescue missions, assist other law enforcement agencies, investigate vehicle crimes, and serve as vital components of the state's homeland security efforts.
MSP offers two separate employment opportunities, the Traditional and the Law Enforcement Training Opportunity (LETO). In order to determine which opportunity you qualify for, please read a brief description below. You may only apply for one of these options.
More details and application information:
---
Minnetonka Police Department
Minnetonka police officers are responsible for the delivery of a full range of police services to achieve the effective protection of lives and property in our community. Services include crime prevention, criminal apprehension, enforcing laws and ordinances, providing emergency life-saving responses, and maintaining effective community relations.
---
Nicollet County Sheriff's Office
Nicollet County Sheriff's Office has openings for deputies, dispatchers, and correctional officers. To be considered for these positions, visit www.co.nicollet.mn.us to complete the application process.
---
OLMSTED County Sheriff's Office
For more information on the Detention Deputy position, visit Job Opportunities.
---
POLK County Sheriff's Office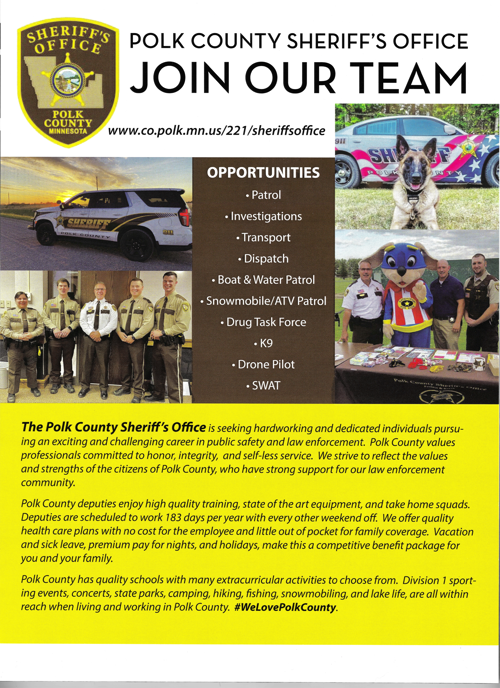 It is the mission of the Polk County Sheriff's Office to provide a safe and secure environment for our citizens while promoting mutual respect between the Sheriff's Office and the public we serve. The Sheriff's Office is responsible for patrolling over 2,000 square miles, including 58 townships and 13 cities. Located in northwest Minnesota, Polk County is geographically the 5th largest county, with a population of approximately 31,000.
---
Ramsey County Sheriff's Office
The Ramsey County Sheriff's Office is Minnesota's first law enforcement agency, established in 1849 when Minnesota was only a territory.
The Sheriff's Office
Has more than 450 employees, including full-time, part-time, and temporary employees, plus over 200 volunteer members.
Has an annual operating budget of approximately $57 million.
Provides wide-ranging law enforcement and public safety services to an urban community of more than 550,000 residents in a metropolitan area of 3.2 million people.
Serves as a regional partner, providing services to city, county, state, and federal agencies.
The Ramsey County Sheriff's Department has several openings for those that are pre-service or about to be licensed.
Correctional Officer Ongoing Recruitment
The Ramsey County Sheriff's Office is accepting applications for Correctional Officer on an ongoing basis. Applications are currently accepted through Monday, October 17, 2022, at 11:59 pm (CST). This posting is for full-time and intermittent (part-time) officers. Persons hired as intermittent staff may be offered opportunities to move into full-time positions without needing to participate in a new eligibility list process.
---
St. Cloud Police Department
CITY OF ST CLOUD
Police Officer: Full-time
Deadline: March 31st, 2023 by 1600 Hours
The City of St. Cloud is looking for exceptional candidates to create a hiring list for our 2023 academies. The St. Cloud Police Department consists of 122 highly trained and skilled officers who have a long tradition of supplying high-quality service to the community. The police department is known for its commitment to community engagement efforts and benefits from having a strong
The department's 10-week academy consists of high-quality instruction using the latest law enforcement training techniques and philosophies to put our police recruits in the best position to succeed. Police recruits can expect to gain extensive hands-on training and knowledge in various topics including the use of force, policy and statute review, scenario-based training, etc. while being paid the appropriate full police officer wage. We will have an academy starting on June 5th, 2023 (for Alex Tech and Hennepin Tech graduates) and August 14th, 2023 (for summer skills students).
The 2023 wage range is $33.97 - $47.50/hour. The City of St. Cloud has a competitive benefits package, which is highlighted by free health insurance for singles and low monthly premiums for family insurance (10% employee paid, $214.08/month in 2023). Applicants must be POST licensed or license eligible by August 15th, 2023. Police Officers begin accruing 96 hours of vacation in their first year of employment.
**** Interviews for Alexandria Technical College students will be held on campus in April 2023. ****
Come to a department that cares about YOU! We are known to have a heavy emphasis on officer wellness.
For information on the hiring process and how to apply please text "JOINSCPD" to (320) 373-9183 or visit: Becoming a Police Officer
Also, watch our recruitment video!
---
St. Louis County Sheriff's Office
Please help spread the word that we are currently accepting applications for Deputy Sheriffs in St. Louis County.
Enjoy the unique opportunities we have to offer such as patrolling by squad, boat, snowmobile, and ATV. We also have K9, drone, and emergency response teams.
We offer competitive pay (prior law enforcement experience may qualify a successful candidate to start above the minimum step of the normal hiring range), excellent benefits, and opportunities for professional growth.
An employee in this class is responsible to perform routine criminal investigation, law enforcement, and process serving tasks. Duties include responding to calls for service within a patrol area and enforcing laws by proactive patrolling and investigating crimes.
MINIMUM QUALIFICATIONS (Pass/Fail):
Apply online at Deputy Sherrif- (Open)
Apply by: 03/22/2023
---
St. Paul Police Department
The Saint Paul Police Department is accepting applications for Police Officers.
---