Colorguard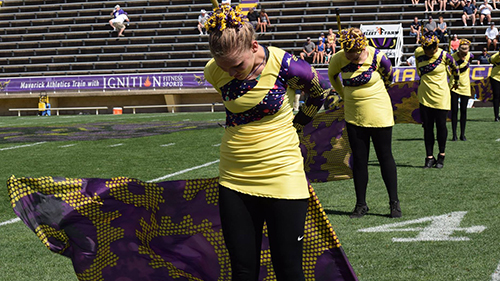 The Colorguard will perform alongside the Machine at home football games along with select basketball games and competitions throughout the state. We are very excited to bring in some of the best colorguard instructors in the state to assist with the building of a new program.
The Maverick Machine Colorguard has been created as a part of the Maverick Machine to push the envelope of collegiate Colorguard in the state of Minnesota. Using a background in the many competitive colorguard circuits the Machine Colorguard will be unlike any other collegiate colorguard in the region. We welcome students who have performed in a colorguard program in the past to audition or submit an audition video.
The Maverick Machine Colorguard is a highly selective section and open only by auditions which take place each spring. For more information please fill out the application form OR contact the Director of Athletic Bands.