Choral Ensembles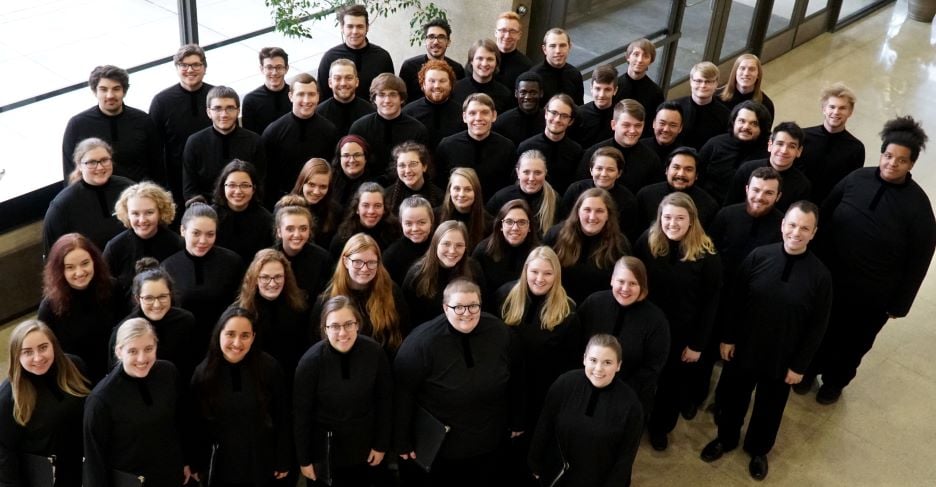 ---
View Some of our recent performances
---
Ensembles
Concert Choir (MUSP 101) is a select ensemble of 50 to 60 singers. The Concert Choir gives highly-motivated students experience in singing the best choral literature and includes students from all areas of the University. The choir represents the Music Department through numerous concerts each year both on- and off-campus.
Chamber Singers (MUSP 103) gives students the opportunity to sing mostly a Cappella repertoire that spans several centuries including the most delicate Renaissance motets and madrigals to music by 21st century composers. In this intimate ensemble experience, singers are given ownership in the process with the ultimate goal of occasionally singing in a musician-led ensemble.
University Chorale (MUSP 102) is open to any student on campus and no audition is required—all you have to do is register! University Chorale sings a variety of styles including traditional choral works but also repertoire that is a little on the lighter side. If you want to give choir a try or fear you may not have the time for an auditioned ensemble, this is the group for you.
---
Opportunities
All ensembles sing two concerts per semester on- and off-campus. Students will have the opportunity to sing collage concerts as well as thematic concerts that ncorporate spoken word, multimedia, and other artistic collaborators. Each fall, we host a Choral Invitational with several hundred high-school singers for an evening of choral music culminating in a massive festival chorus.
---
Time Commitment
None of our choral ensembles rehearse more than four hours a week. While choir does meet as much as many of your classes, it is a great opportunity to focus on creating something beautiful, building community, making friends, and truly striving for excellence.
---
Cost
There are no additional costs or course fees to participate in choir at Minnesota State Mankato. As a member of any choral ensemble each student is provided with all music, a performing folder, and performance attire. We also offer scholarship opportunities for students who participate in ensembles.
---
How to Join and More information
To join any of our ensembles, just register! If the registering for Concert Choir (MUSP 101) and Chamber Singers (MUSP 103), please be sure to sign up for a placement audition outside of Performing Arts 231 the first week of class. For more information on our Choral Ensembles, contact Elisabeth Cherland, Director of Choral Activities.