Music of Stage and Screen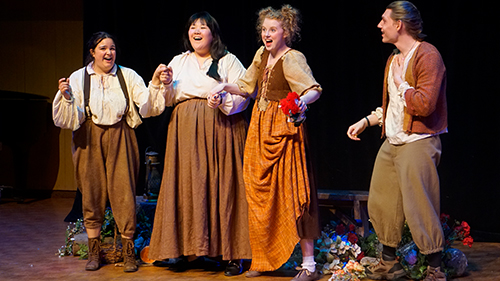 Music Productions for the Stage and Screen is an exciting ensemble/course in which students collaborate with the music and stage director(s) of the course and their peers to produce a large-scale musical production. Students will gain experience in auditioning, performing as a singing actor, and will have input into the production design. The music performed throughout the course is based upon the strengths of the students and may feature an entire musical work or scenes from musical theatre, opera, and contemporary styles of singing. The musical production includes costumes, sets, staging, and lighting that culminates in two professional performances at the end of the Spring semester. MUSP 111/211/311/411 is considered a Goal Area 11 General Education course.
For more information on our Music of Stage and Screen Ensemble, contact Stephanie Thorpe.